NEPTUNE MOSAIC® is an art and a luxury brand belonging to the House Neptune®. Our brand guarantees the highest quality for all its products 100% "hand-made" by drawing on the expertise of our craftsmen and noble materials.
True to the traditions of Roman mosaic of the time, we are trying to reborn the history of ancient mosaic. A rich history with its values and virtues that the House is trying to resurrect in a world that lacks more and more arts and fantasies ...

HISTORY OF THE CREATION OF NEPTUNE Mosaic®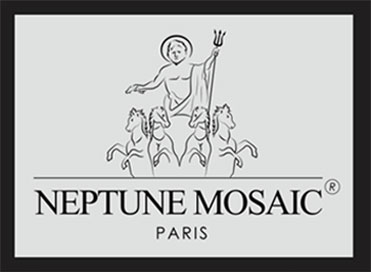 Logo Neptune Mosaic
From a father from the bella Caput Vada and a mother of Utica - two cities bearing witness to the prosperity of the Roman Empire to the époque-, Zied and Wiem and forced their destiny and have managed to cross paths NEPTUNE Mosaic® to found.
Both purists ancient arts and marquetry, Wiem which specialized in fine art and drawing and Zied which looked rather new information technologies saw their dream come true by launching home .
They were inspired by their origins and their lives in Paris, capital of art, fashion and luxury brand to launch.
An ancient house of traditions that date back more than 2,000 years and which values ​​the art of mosaic and rising to the highest level of refinement.
Noticeable refinement in all the works and brand products. The frescoes and excellent finish their supervision worthy of the sumptuous paintings and portraits of the Sun King Louis XVI can only testify.

NEPTUNE, GOD EMBLEMATIC HOUSE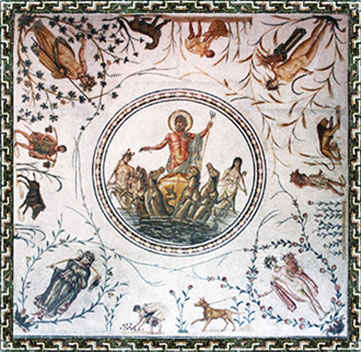 Son of Saturn, Neptune is the Roman god of the sea and oceans. His empire is at the bottom of the sea where it protects those who travel by water and where it also causes storms, hurricanes and tidal waves.
This is also the funds of the waters of Caput Vada (birthplace of the founders of the brand NEPTUNE Mosaic®) was discovered in 1902 that the famous mosaic 'the triumph of Neptune', it is a pavement of Figure atrium in which Neptune haloed head and out of the sea unquadrige drawn by four sea horses in a medallion with its frescoes representing the four seasons.

HISTORY OF THE MOSAIC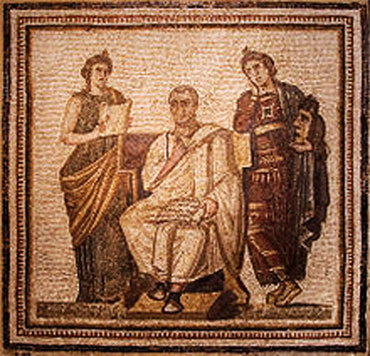 The mosaic art goes back more than 6000 years of assembling fragments, called "tiles" of various sizes and materials.
This art invented by the Greeks, has steadily developed over the centuries and has reached its peak with the Romans that enabled him to defy paintings and sculptures with its polychrome. Inspired both by their gods and myths by their daily, the Romans spread their mosaics in the four corners of the Empire.